Kano huren
​
Op onze camping kan je ook een kano huren en de Indalsälven opgaan, we hebben er op dit moment twee in de verhuur incl. peddels en zwemvesten.
Bij het krieken van de dag er op uit en op je gemak de rivier over en genieten van de stilte en de natuur.
​
Een hengeltje kan ook mee dan kan je altijd je lunch bij elkaar vissen leg aan op een strandje maak een vuurtje en geniet van je vis. Of bestel bij ons een lunchpakket voor onderweg.
Trollmuseum Jarkvissle (35 km)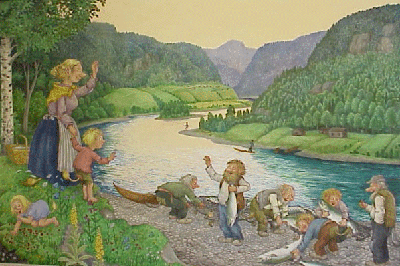 High in the north, deep in the mountains, certain mysterious creatures called trolls lived. They look a bit sloppy with wild hair, rough beards, sometimes cuddly and lonely. Nevertheless, they are gentle. Everything about these important symbols can be found in the Trollmuseum and in the garden garden of Jarkvissle near the village Liden in the street '86'. Liden is the birthplace of Rolf Lidberg, one of Sweden's greatest troll painters. He died in 2005 at the age of 74. In Jarkvissle you can admire, among other things, the largest troll image in the world by this famous troll artist. There is also a cafe for a cozy Fika.

Open only in high season from 15 June to 15 August from 11am to 5pm, otherwise by appointment. Call Jarkvissle Troll Village, (+46) -692-21121 (+46) -692-21017 Monica Karlsson).

GPS WGS84: N 62 ° 48.9948 ', E 16 ° 41.0826' Decimal: 62.8166,16.6847
In Liden you will also find excellent hiking opportunities, a beautiful wooden church and a ski slope.